Parking & Transportation
Student and Visitor Parking

Students and visitors may park in the QFIS Parking, where there is signage to guide you to the NU-Q South Main Entrance. Please do not park in the QFIS Basement Car Park. There are regular Qatar Foundation Shuttle Busses (look for the yellow busses) that pick and drop off from this car park to the NU-Q Building. 
Visitors with disabilities
Visitors with disabilities will be given access to the NU-Q basement parking lot, where elevator access to all floors is available from there.
Faculty/Staff Parking
NU-Q faculty and staff may park in the NU-Q basement lot.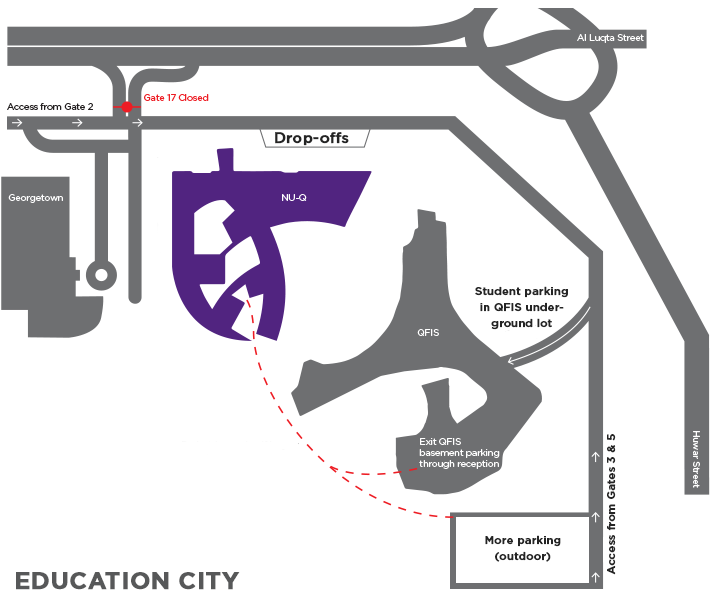 Education City Shuttles
Free shuttles run between Education City campus buildings every 5-10 minutes from 6:45 a.m. - 9:00 p.m., Sunday through Thursday. Shuttles run between the Residence Halls and the Recreation Center every 30 minutes.
The shuttle picks up at the north entrance of the NU-Q building. Look for the yellow QF bus.
Employee Shuttles: Residences To/From Campus
A free employee busing program organized by Georgetown University in Qatar runs between various Doha residences and Education City. Shuttle vans pick up at the compound clubhouses and in front of the towers' main entrances.
Drop-off and pick-up
Shuttle Bus
Drop off and pick up by shuttle bus will be at the North Main Entrance under the canopy. Please remember to have your NU-Q ID card visible for security. 
Drivers and family
Drop off and pick up by family, drivers etc. will be at the North Road lay-by, which is a strictly no-parking area. QF has instructed their guards to report parking violations to the Police via METRASH. Any driver who does not have their pick up ready may be asked to leave, drive around, and return so as not to block this area.
Cage equipment
For cage equipment drop off and pick up, students can enter the forecourt area and park in designated parking by appointment. Students will be allocated a maximum of 10 minutes to park in this area.
Back to top