GRADUATION TICKETS
Each student will receive four tickets for guests (two for Events Hall and two additional tickets in adjacent rooms)
Guests MUST present a ticket to enter the NU-Q building and Events Hall
Students are required to bring their student ID to enter the building and check in.
PARKING/ENTRY TO THE BUILDING
Doors open for guests from 8:30 p.m. 
All graduates and guests can use the North and South entrance. 
Staff will be checking invitations at the entrance to the building and Events Hall.
Guests are advised to arrive no later than 9:30 p.m.
Parking can be found at Oxygen Park parking area.
Trams and shuttles will run on a regular basis. Staff members will be available to guide guests.
Drop off (ONLY) will take place by the VIP/North entrance.
Valet Parking will be provided at Northwestern (north entrance) for guests with disability parking permit.
Please refer to the map below for Oxygen Parking Garage directions.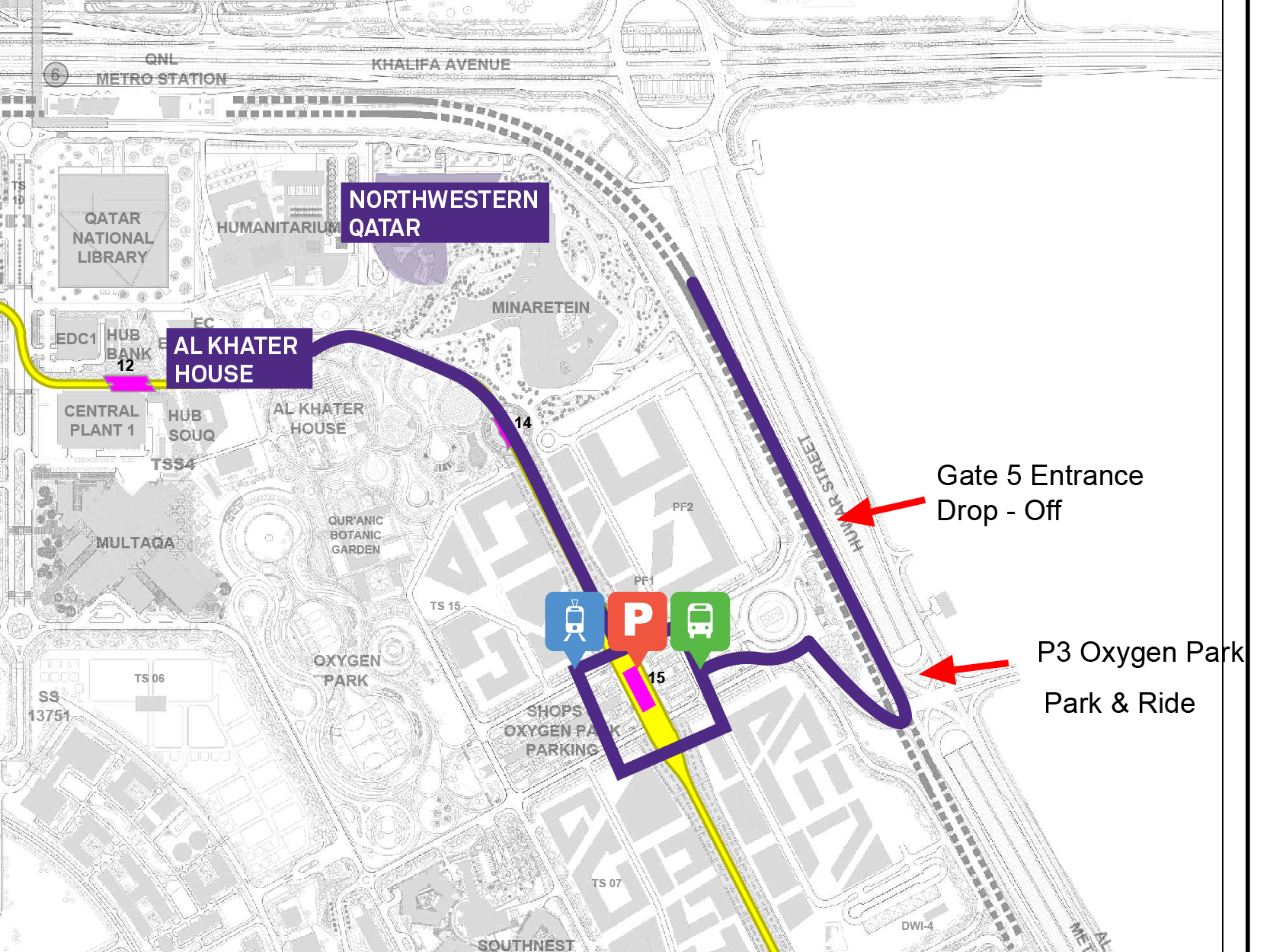 REGALIA
Regalia including invitation and guest tickets will be available for pick-up at the NU-Q bookstore April 11 – 21, 10:30-2:00 pm (weekdays only). Please ensure to bring your valid NUQ ID. If you cannot pick up the regalia yourself - please ensure the person collecting the regalia will bring your NU-Q ID. 
The regalia will consist of a cap, tassel, gown, sash and mask to keep.
The regalia is made entirely from post-consumer plastic bottles making an eco-friendly fabric which is comfortable, breathable, and recyclable. As these regalia is made of an eco-friendly fabric - it is not advised to dry-clean these but only to lightly steam the regalia. 
ROBING
On the day of graduation, it is expected to bring and wear the regalia. A robing room will be available in studio A with light refreshments. Please be advised to arrive no later than 9:15 p.m. in studio A, so we can ensure you are robed and lined up for procession. You will be lined up in alphabetical order by first name.
PROCESSION/RECESSIONAL
Line-up will take place in the hallway outside studio A,B, & C for the processional  
Processional will take place through the Event Hall's doors
Recessional will take place through the glass doors into the Forum where you will be re-routed to the Events Hall for the class photo. The robing assistants and event manager will assist you during this process.
GRADUATION PROGRAM
8:30 p.m. – Doors open to guests
9:00 p.m. – Robing starts for graduates. Please arrive in studio A no later than 9:15 p.m. 
10:00 p.m. – Graduation Ceremony
Class photo (Events Hall) to follow recessional
Reception (Atrium)
PHOTO OPPORTUNITY
The class photo will take place immediately after the recessional is completed.
A photo booth including props, a photo backdrop, and lightboxes will be provided for photo opportunities in the Forum immediately after the graduation ceremony. 
Live Streaming Links
April 25
Class of 2022
(360) Class of 2022
Graduation speaker
Fatma Hassan Alremaihi, Chief Executive Officer, Doha Film Institute
Fatma Hassan Alremaihi, appointed CEO of the Doha Film Institute in 2014, is responsible for overseeing the strategic direction of the Institute, maintaining its focus on promoting film culture in Qatar and establishing its presence on the regional and international stage. 
Alremaihi also serves as Director of the Institute's annual film events, Qumra and the Ajyal Film Festival, guiding the artistic, strategic, and operational aspects of both events, designed to nurture the next generation of creative professionals and strengthen Qatar's position within the international film community. Part of the Institute's team since its inception in 2009, Alremaihi led key programmes focused on developing local talent and building key relationships with the global film industry. 
Since 2017, Alremaihi is consistently ranked among Variety International's annual 500 most influential business leaders shaping the global entertainment industry and was also profiled in Variety's first International Women's Impact Report in 2018 and for the 2021 edition, for her integral role in realizing DFI's vision to support underrepresented cinematic voices. She is a member of the Board of Trustees for the inaugural 'Doha Award for Drama Writing', the first regional Arabic award of its kind, established by the Ministry of Culture and Sports in Qatar to highlight the importance of scriptwriting as a profession that helps raise awareness about human issues and contributes to societal development. 
Born and raised in Doha, Al Remaihi graduated from Qatar University with a degree in English Literature. She resides in her hometown and is a mother of four.
Student Speaker
Nur Munawarah Hussain, Communications
Nur Munawarah Hussain majored in Communication at Northwestern University. She has a passion and interest in photography, video editing and filmmaking. During her time at Northwestern University, she was one of the peer advisors for the New Student Program in 2020 and was the recipient of the Travel Conference Grant 2019 and Undergraduate Language Grant for Spanish in 2021. She was also a Research Assistant, Teacher's Assistant and Multi-Tasked Operator at the Cage. Her photography and short films were screened, nominated and awarded for competitions and festivals in numerous countries around the world. Her photography works won the Grand Prize Award for the Mellow Arts Awards 2021 in Japan and was awarded 3rd prize for the Children's Category at the International Photography Award 2019 held in New York. She also represented Singapore in the World Photographic Cup in 2020. She has participated in 11 Studio20Q film sets, one of which was a short film directed and written by her title, Love for Layla. The film recently won the Media and Research Award 2022 for Best Funded Moving Image and was nominated for the 7th National Youth Film Awards 2021 in Singapore. 
DIPLOMAS  
Official diplomas are issued after degrees are conferred in Evanston, and NU-Q students will be notified by Student Records when their diplomas are available to be picked up. 
Students who participate in the NU-Q commencement ceremony will receive a diploma cover with a congratulatory message inside.
Senior honors & awards  
Dean's Scholastic Honors 
These honors recognize the outstanding academic achievement of graduating students and are calculated on the number of times a student has been on the Dean's List.
Highest Honors (Dean's List 7 or more times)
High Honors (Dean's List 6 times)
Honors (Dean's List 5 times)
Students who are Dean's Scholastic Honors recipients receive:
An honor cord to be worn with their regalia during the graduation ceremony
Senior Awards
Each year, NU-Q recognizes graduating seniors for academic excellence and leadership skills. The awards are determined by the dean, academic programs, and student experience.
Dean's Award
Communication Program Award
Journalism and Strategic Communication Program Award
Liberal Arts Program Award
Student Leadership Award
Selection of each award is made by committees of faculty and staff. The Dean's award is presented to an exceptional student in the academic areas of NU-Q.
Students who are awards recipients receive:
A crystal award presented during the graduation ceremony and an award certificate to be given along with the conferred degree.
FAQs
When will I receive my honor cord?
Honor cords are distributed with regalia for students planning to participate in the graduation ceremony.
When will I receive my award certificate?
Students who receive a Senior Award will receive an engraved crystal award during the graduation ceremony. They will also receive a certificate recognizing the award. Official diplomas, along with Senior Award certificates, are issued after degrees are conferred in Evanston, and students will be notified by the Office of Student Records when diplomas are available. 
What about Latin Honors?
Latin Honors are based on a student's final cumulative grade point average (GPA) at Northwestern University in Qatar. Latin honors are noted on the student's official transcript and official diploma when the degree is conferred. Official diplomas, along with any Latin honors, are issued after degrees are conferred, and students will be notified by the Office of Student Records when their diplomas are available. 
The designation of Summa Cum Laude (top 5%), Magna cum Laude (the next 8%) or Cum Laude (the next 12 %), frequently referred to as Latin Honors, is awarded to the top 25% of graduating students.  Latin Honors are determined by grades earned in all undergraduate coursework.  Latin Honors take into consideration all students within the school as a whole and do not distinguish between individual degree programs, such as Journalism and MIT.  Courses taken through cross registration or transferred from another university may count toward graduation, but may not be included in the compilation of the GPA.
Back to top