Parking & Transportation
Student Parking

Parking spaces on the North Road is limited to the small lay-by.  Users should be considerate to other road users by parking parallel to the sidewalk and with space for other users.  Parking on any sidewalk, including the sidewalk opposite the NU-Q building is strictly prohibited.  Offenders are liable to be fined by Qatar Traffic Police. Students should park in the QFIS Parking, where there is signage to guide you to the NU-Q South Main Entrance. 
Motor Vehicles
Students are requested to drive safely and with consideration for other road users and pedestrians at all times. Speed limits are posted throughout Education City.  Drivers caught speeding are liable to a fine issued by Qatar Traffic Police.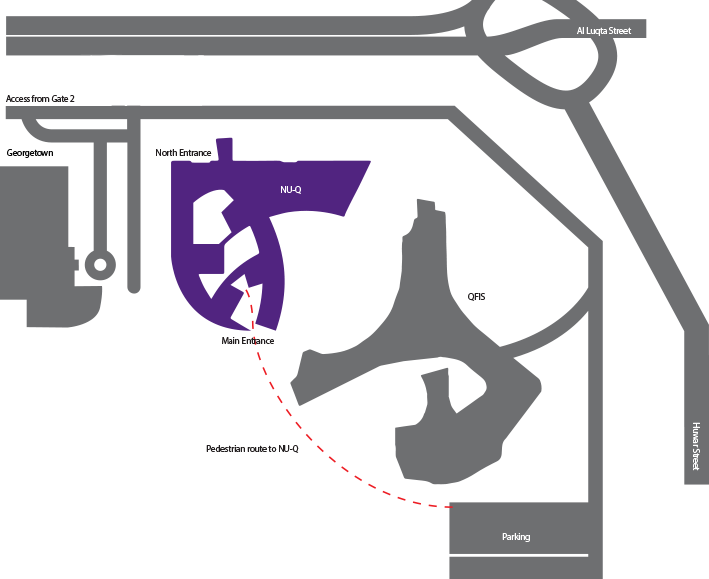 Education City Shuttles
A limited free shuttle bus service runs between between the Residence Halls and the Recreation Center.  Please speak to the Residence Halls staff for further details.
The shuttle picks up at the north entrance of the NU-Q building. Look for the yellow QF bus.
Driver or family drop-off/pick-up
Drop off and pick up by family, drivers etc. will be at the North Road lay-by, which is a strictly no-parking area. QF has instructed their guards to report parking violations to the Police via METRASH. Any driver who does not have their pick up ready may be asked to leave, drive around, and return so as not to block this area.
Cage equipment drop-off/pick-up
Request short-term parking for equipment pick up and drop off is available on Webcheckout. Log in using your NetID and password and select: Production Locations – Equipment Cage Parking.
Your vehicle plate registration number must be detailed in the notes section of your reservation. Failure to adhere to this will result in a parking fine issued by the Ministry of Interior.
Maximum parking is 30 minutes and parking is only permitted during production equipment cage operating hours.
Back to top