Travel Funding, Planning and Procedures
Funding and expenses
Some student trips have components that are funded by NU-Q. When NU-Q decides to fund a trip, typically the airfare, accommodation, and group transportation and group meals will be covered. Visa & trip fees, individual meals and transportation, and incidental expenses are not covered.
Planning & Procedures
School wide planning
Travel programs for the academic year must be appropiate planned in advance. See below example of planning timeline: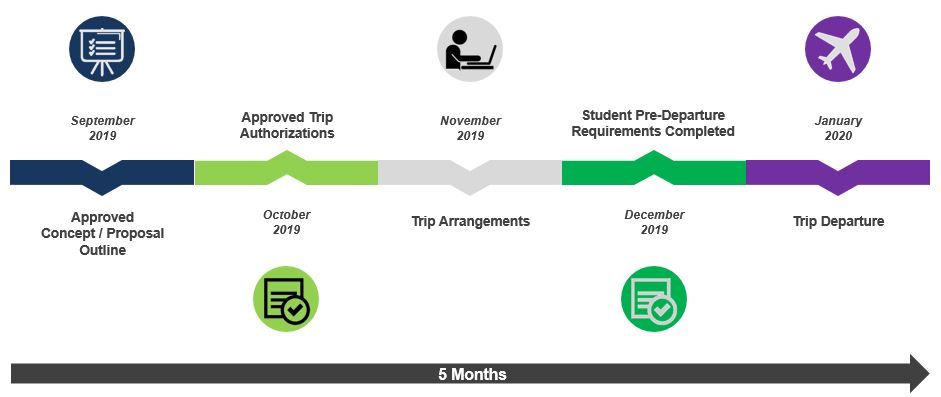 Travel Authorization
In order to fully encourage and expedite NU-Q sponsored student travel, trip leaders and student travelers must follow the Student Travel Protocol. Appropriate planning and authorization is essential with deadlines observed and all travel is contingent on:
timely travel planning
availability of funds
assurance of student safety (NU-Q does not approve travel that does not pass accepted safety protocols)
visas and other necessary travel permissions
Special Circumstances
Although according to the Student Travel Protocol. travel programs for the academic year must be planned in advance, NU-Q is also cognizant of the need to be nimble in a limited number of unanticipated trips, involving changing circumstances, news developments or others. These trips are contingent on reasonable time for internal financial, travel and other support. Safety issues and visa approvals are beyond the control of NU-Q personnel, so any such travel should always consider the possibility of outside blockages. Students and faculty should also be advised to mitigate possible disappointment. NU-Q will diligently try to accommodate a limited number of such trips--with specific funds set aside for them.
Back to top